Building permit & detailed construction designs, expert & technical opinions, annual building inspections & inventories...
Obligatory periodic building construction inspections
According to Polish Building Law Act the Owner or the Admini- strator of the building object should make building construction inspections once or twice a year and every 5 years (broader scope of inspection)
more (in polish language)
Building Log Book
According to Polish Building Law Act every building objects (without few exceptions) should have own Building Log Book (BLB). The Owner or the Administrator is obliged to establish and managed the BLB.
more (in polish language)
Latest realizations
See our latest reali- zations
more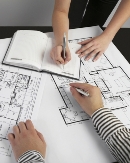 PH-PROJEKT invite you to cooperate with us.
Our cooperation proposal is especially for design offices (architectural and structural), freelance designers with building licence, site companies and construction manufactures.
We also invite companies which offer services for Owners and Administrators of buildings.